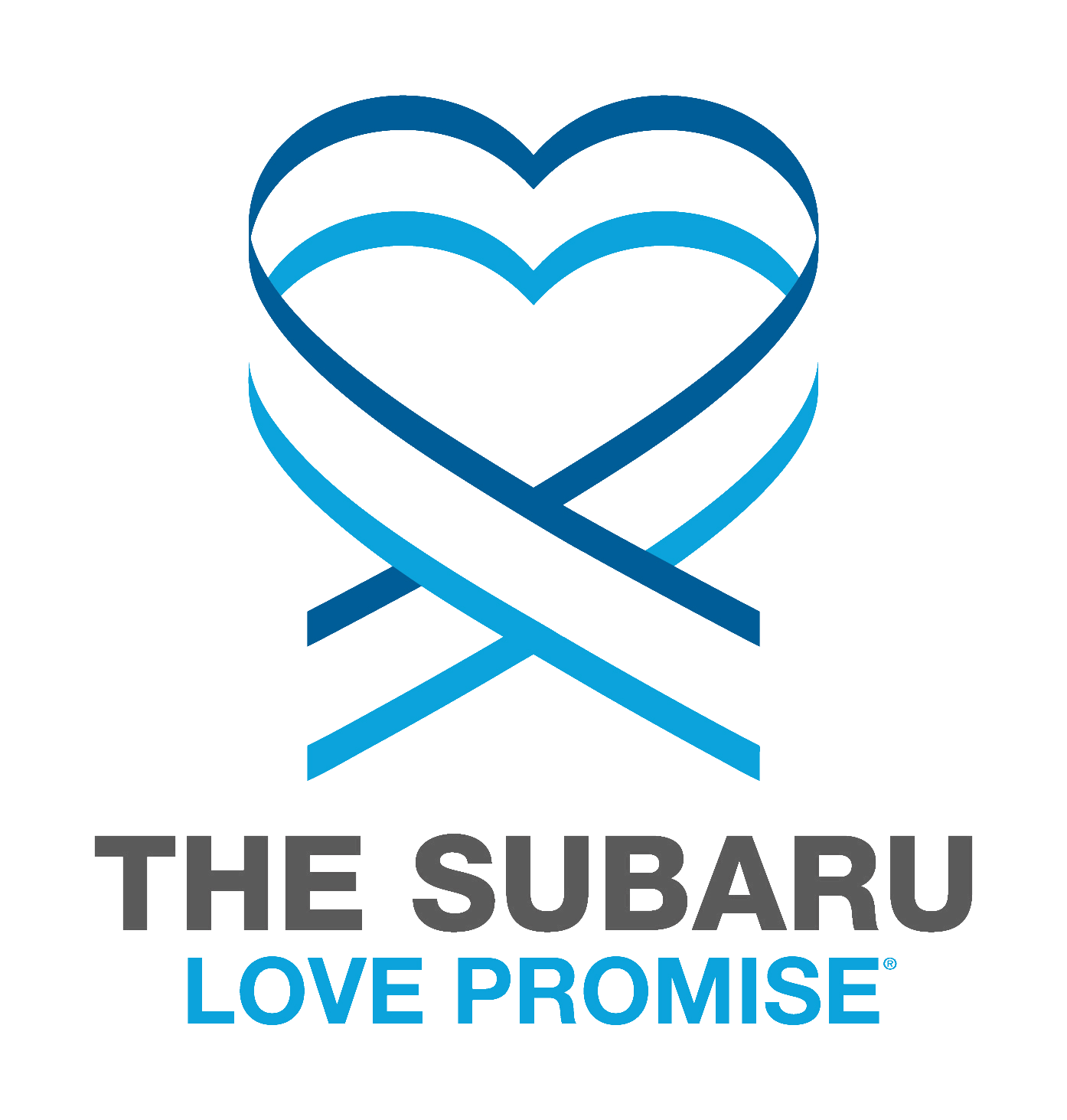 What is the Subaru Love Promise?
Subaru and our retailers believe in making the world a better place and the Subaru Love Promise is our vision of respecting all people. This is our commitment to show love and respect to our customers and to work to make a positive impact in the world.
How is Maguire Subaru of Ithaca dedicated locally to the Love Promise?
Maguire Subaru takes pride in supporting our surrounding community. Whether it's through community oil changes, family fun events or partnering with local charities to raise funds for a good cause, Maguire Subaru is proud to be a part of the Subaru Love Promise.
Tompkins County SPCA, The Humane Society of Schuyler County
Sustainable Tompkins County, American Red Cross Tompkins Co, Cornell Co Op Ext., Ithaca Childrens Garden
Family Reading Partnership, Franziska Rackers Center, Ithaca Science Center
United Way of Tompkins, Cops Kids and Toys, Advocay Center, Second Wind Cottages, Friends of IYB, Greater Ithaca Activities Center
Hospicare of Tompkins County, Aids Ride for Life, Cayuga Medical Center Fo., Cancer Resource Center of FL, Hospicare
Love Promise Stories from Maguire Subaru of Ithaca
Subaru and Maguire Subaru of Ithaca believe in making a positive impact on the communities in which we live and work. We uphold that belief through our Love Promise Community Commitment. Every month, we select inspiring stories from customers and partners from around our area who strive to support our collective commitment and feature them here
Foodnet Support - Megan O
The Foodnet Meals on Wheels mission is to provide meals and other nutrition services that promote dignity, well-being, and independence for older adults and other persons who live in Tompkins County. We provide daily healthy meals, nutrition counseling, and safety checks to over 400 vulnerable seniors. As a 501 (C)3, we face challenges that many nonprofit organizations grapple with daily. The process of acquiring resources can be arduous, with varying results, disrupting our ability to provide services to our clients. Funding from businesses, foundations, government entities, and generous community members is essential and helps us combat inflation and rising costs. Maguire Family of Dealerships goes above and beyond to provide us with resources to enable our mission to continue. We have received monetary support from Subaru of America and the Maguire Family of Dealerships and Maguire Subaru from the national Subaru Share The Love® Event. The local Maguire Subaru of Ithaca team made the campaign process easy and rewarding, demonstrating their commitment to the community where their employees live and work. Throughout the months-long campaign, Maguire selected Foodnet as their "Hometown Charity" of choice, generating donations for every new Subaru vehicle sold or leased and raised over $15k for our organization in 2022-2023. Not only does Maguire Family of Dealerships support Foodnet, their staff are very active in so many other charities. While monetary support is helpful, their staff also volunteer for different nonprofits across Tompkins County. There are many nonprofits in our area, and Maguire provides various resources for as many as they can with the resources they have. We are appreciative of their efforts!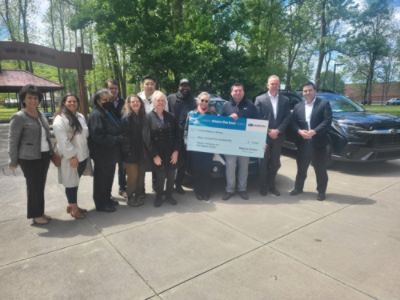 ---
A Furever Home for Fonzie - Jackie P
Fonzie was brought to the Humane Society of Schuyler County after law enforcement removed three dogs and another cat from their residence. His body was covered in scabs from flea dermatitis, he had an abscess on his neck requiring immediate veterinary care, and he was FIV positive. Feline immunodeficiency virus (FIV) is one of the most common and consequential infectious diseases of cats around the world. The primary mode of transmission for FIV is through bite wounds from an infected cat. However, it is important to note that while it is impossible to predict the survival of a cat infected with FIV, they can live very normal, healthy lives for many years with regular veterinary care. From the minute Fonzie arrived he had a purr you could hear across a room. Once he was neutered, treated for parasites and his wound healed he was ready for the adoption floor. Unfortunately, Fonzie had two strikes against him: he was a "black" cat and FIV positive. Several people met Fonzie but upon hearing "FIV positive" they abruptly dismissed him. On October 29, an older woman came to the shelter, accompanied by her daughter, looking for a cat companion. While the older lady found her kitty, the daughter was immediately drawn to Fonzie. With crossed paws we explained FIV but the adopter was undaunted. And so on November 6, Fonzie went to his furever home! Thanks for your support, Subaru!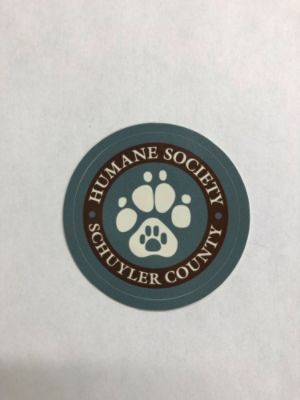 ---
Maguire Subaru Gives Back to Help Kids in Need - Ashley G
Maguire Subaru partnered with the rest of the Maguire Dealerships and Insurance Agencies to do a toy drive for Cops, Kids and Toys. Cops, Kids and Toys is a local charity organization in Tompkins County, New York that collects, purchases and distributes toys to financially disadvantaged kids in our community for the holidays. Maguire collected toys from November to the early part of December and even had a Jeans Day Event for their staff and employees. This event allowed their employees to wear Jeans on a Friday if they donated a toy for the cause. Due to Maguire's generosity with this toy drive, many children will be able to open gifts during this holiday season! Thank you Maguire for all you do to help others in our community!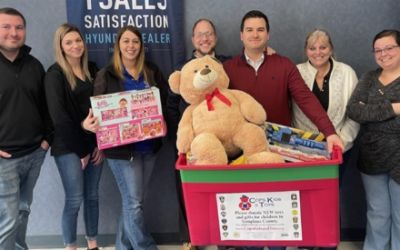 ---
Subaru Loves Pets-Humane Society Schuyler County - Georgie T
Ruger came to us from an overcrowdedm rural shelter in North Carolina where he had arrived as a stray, timid and frightened. At just 7 months old, Ruger found himself homeless. With the help of some very caring people, Ruger made the journey to upstate New York with 30 travelling companions. After a few short weeks Ruger gained his confidence (and some weight) and blossomed into a sweet and gentle boy. Several of his travelling buddies were soon adopted, but not Ruger. Until one chilly October morning a family came to meet one of his cohorts, but also met Ruger and it was an instant connection. Just before Halloween he joined his new young family of three young girls. He waits for them to get off the school bus every day, and shares in all of the family adventures! A little love can truly change the world. Thanks to our friends at Maguire Suburu for helping to change life for Ruger.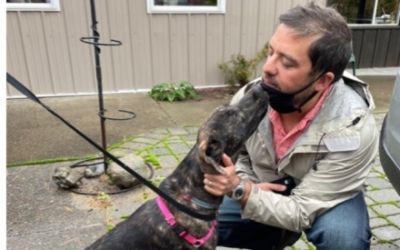 ---
Maguire Subaru Delivers Support - Georgie T
The Covid - 19 pandemic has had an extraordinary impact on fundraising efforts for not for profits around the area and animal shelters are no exception. At the Humane Society of Schuyler County we work hard to continue to meet the needs of the animals in our care, despite the challenges the pandemic presents. During the October Subaru's Share the Love Event, coordinator Ashley Greenley and the employees of the Maguire Family of Dealerships, pulled out all the stops to support the shelter. While Ashley had initially envisioned a much larger event, the employees pulled together to collect two Subarus full of supplies, food, treats and toys to help us care for our shelter animals. Their generosity was simply overwhelming and has helped us to ready numerous dogs and cats for adoption.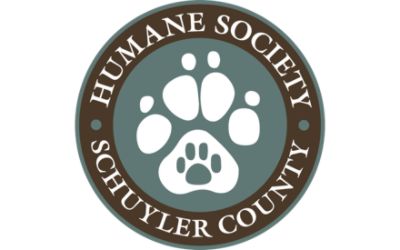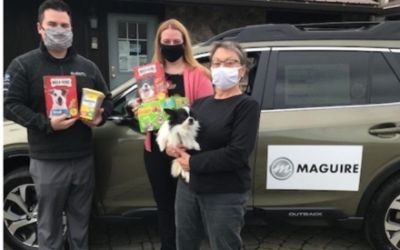 ---
Subaru helps to deliver blizzard bags! - Jessica G
Thanks to our donated Subaru, we will deliver hundreds of blizzard bags to our older adult neighbors in Tompkins County. While Upstate New York is scenic, hazardous road conditions due to inclement weather are inevitable. Foodnet Meals on Wheels delivers blizzard bags that contain four shelf stable meals for our clients to have on hand in case of a weather-related service disruptions. We are fortunate to have generous volunteers to help us pack the bags for delivery. Thank you Subaru for ensuring older adults and others in-need have access to meals regardless of the weather!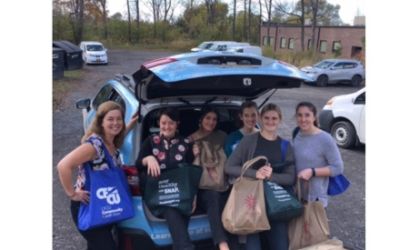 ---
Subaru of America Loves to Help Rural NY Seniors! - Jessica G
Susan is a Foodnet Meals on Wheels participant that we are able to reach with our donated Subaru Outback in rural Tompkins County, NY. She lives in one of our county's most rural areas. While Upstate NY is scenic, the terrain can be difficult to navigate. Thanks to Subaru, Meals on Wheels is able to deliver for Susan, and many other seniors in this rural community. Each nutritious meal is delivered with a safety check, a friendly visit and compassion. Thank you, Subaru for helping us to make a difference!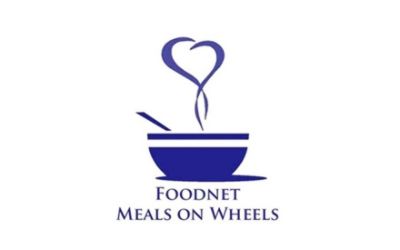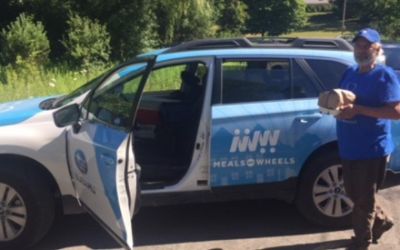 ---
Celebrating our Partnership with Subaru! - Jessica G
We were honored to celebrate our partnership with Subaru at our Annual Mac 'n Cheese Bowl in March. The Bowl is our largest community engagement event and it aligns with Meals on Wheels America's National March for Meals Campaign. During the month of March, meals on wheels programs across the country celebrate collaborations with local community organizations, businesses, and all levels of government to ensure that our seniors are not forgotten. What an honor to have representatives from Subaru and our local retailer, Maguire there with us! The beautiful donated meals on wheels delivery vehicle was the star of the show! Our board members and community had a wonderful time touring the vehicle at the event. Our partnership with Subaru and Meals on Wheels America impacts our community in a very meaningful way. With Subaru behind us, we are able to reach our older adult neighbors that reside in the most rural areas of the county.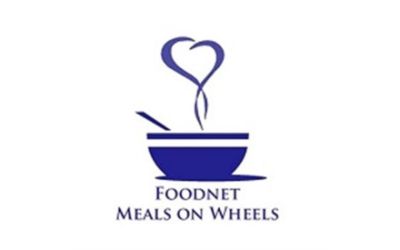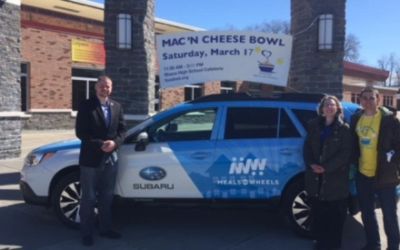 ---
Thank you for helping Foodnet make a difference! - Jessica G
On October 24th, Foodnet Meals on Wheels, Maguire Family of Dealerships, and Subaru Distributors Corp. hosted a special media event in honor of Subaru of America's generous vehicle donation. With the help of two creative Ithaca College students, Foodnet prepared a special thank you message that aired at the event.
---
Foodnet Celebrates Donated 2018 Subaru Outback! - Jessica G
In celebration of its 50th anniversary, and keeping with its commitment to support local communities nationwide, Subaru of America, Inc. has donated a Meals on Wheels delivery vehicle to Foodnet Meals on Wheels, in partnership with Meals on Wheels America, and Maguire Family of Dealerships. In honor of the donation, Foodnet, Subaru, and Maguire hosted a special delivery event! The Tompkins County, NY community gathered together to celebrate Subaru's generous gift!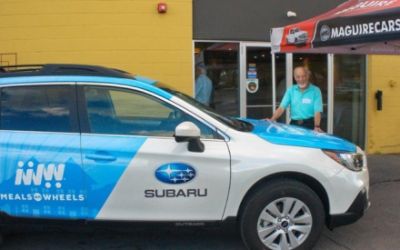 ---